Welcome to Pyramology
The frustratingly simple 3D pyramid stacking game
About Pyramology
Pyramology is a new, exciting board game that can be played as a head-to-head game with up to six other players, or as a solitaire puzzle by one person. It's an ideal family game, that will fit in to your holiday bag or briefcase so you can take it with you wherever you go!

Suitable for ages 8+
One to six players
Single player 'solitaire'
Multi-player head-to-head
Easy rules and simple to learn
Portable - play it anywhere!
Sorry! We've temporarily sold out! We'll have more copies available for shipping soon!
Pyramology is an exciting board game designed to be played by up to six players – or even challenge yourself on a solo quest! Perfect for families, the easy rules and simple gameplay make it great fun for you and your friends. Plus, its compact, portable size lets you take the fun wherever you go! Dare to try your luck and explore the possibilities with Pyramology!
NOTE: Subscribe to our email list at the bottom of this page and we'll make sure we let you as soon as Pyramology is available again.
Share
View full details
WHAT PEOPLE ARE SAYING ABOUT PYRAMOLOGY
Testimonials
This is sooooo clever!

"Jon has come up with something quite special in that Pyramology is hugely accessible and also really great fun to play." – Questgames.

I love playing it!

"It's great fun and easy to understand. I've played it on my own and with the family. I love playing it!" – Jude, 11.

It's a GREAT game

"It's a GREAT game. Simple and good fun. It's definitely one to take on holiday with you. 10/10👍🏻." – Jeff, 74.
We just kept playing it

"Such a simple idea of a game. I can't believe no one's thought of it before! It's great! We just kept playing it" – Lynne 44.

It was great!

"Played this with my two boys, 12 & 14 at the UK Gaming Exhibition - Great fun. Easy to learn, with solid strategic elements to it." – James.

Loved it!!!

"Loved it!!! I played it with the family and it brought the competitive streak out in all of us! We HAD to beat Dad!" – Tracey, 34.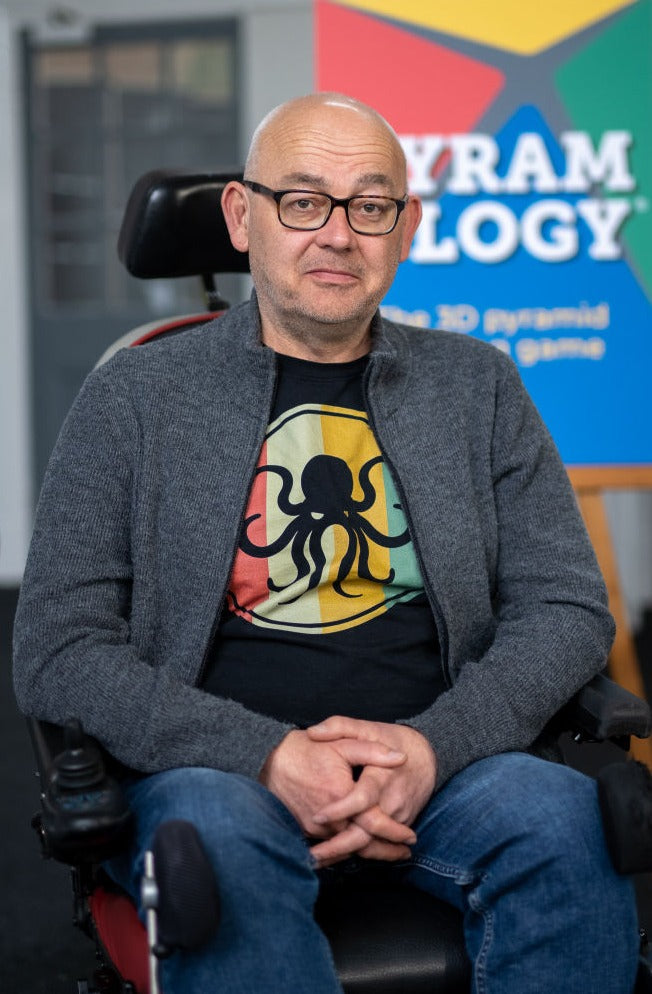 Meet Jon, Creator of Pyramology
A keen gamer himself, Jon works as a nurse in Nottinghamshire. Diagnosed with Muscular Dystrophy around 2003 and following a fall he is still working but is now in a wheelchair.
During the COVID pandemic Jon was identified as at high risk, so like many people found himself spending most of his life living and working at home. It was during lockdown, Jon decided that he needed a hobby. He'd seen 3D printers about and decided to get one. Starting out printing simple 3D pyramid shapes his my mind got to thinking about colouring the faces and stacking them together.
Over two-years later and his game has finally become a reality. Jon invested his savings into turning a lockdown hobby into a brand-new board game reality.
Listen to Jon talk about his journey and the history of the game by clicking here.
Watch the video
Live to play. Play to give.
By buying and enjoying playing Pyramology you will also be supporting some amazing charities. Once in full production, 5% of all profits from sales of the Pyramology board game will be divided equally between these nominated charities. Click on the links below to learn more about these charities and the fantastic work they do:
Muscular Dystrophy UK

Campaign to improve the quality of life of people who live with a muscle-wasting condition. Giving access to specialist healthcare, welfare support and treatments they need, as soon as possible.

Muscular Dystrophy UK

Joseph Patrick Trust

The Joseph Patrick Trust is the welfare trust of Muscular Dystrophy UK and provides part-funding towards the cost of equipment for children and adults with muscle disease.

Joseph Patrick Trust

NeuroMuscular Centre

NMC provides a range of unique services and specialist advice with the sole aim of improving the quality of life for adults with neuromuscular conditions, including muscular dystrophy.

NeuroMuscular Centre